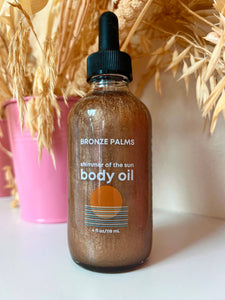 These body oils are shimmery, light weight and extremely hydrating! The simple ingredients are safe on even sensitive skin. Made by a tanning salon in California! The first ever spray tan-safe body oil!
Mineral oil-free. Paraben-free. Sulfate-free. Fragrance-free. Gluten-free. Harm-free. Vegan. Ingredients: Jojoba Oil Vitamin E Mica
After shaken and applied, there is a highlight on the skin and extreme hydration.