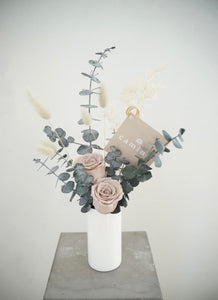 The Eliane is a beautiful, one-of-a-kind arrangement made with real roses + botanical accents, preserved to last for years. Features taupe roses, green eucalyptus, bleached ruscus, and bunny tails.
Includes ceramic white vase.
This is a petite sized arrangement. Vase dimensions: 5.5" x 3.75"
Available for shipping or local pick-up at our shop in downtown Napa. 
All shipped florals do not require a water source. Best if kept out of direct sunlight and away from water. Check out our FAQ page for additional information.