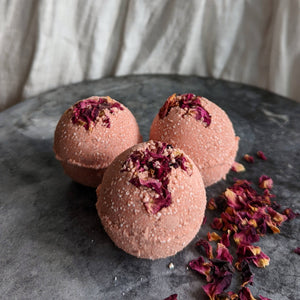 Centering & sensual bath bombs that help reduce anxiety & focus your energy. A sweet and fruity blend with pink grapefruit & a hint of earthy patchouli. Perfect for a sexy, relaxing & meditative bath. Nourish, moisturize & center your body with these fizzies during your bath rituals.
Ingredients: Baking soda, citric acid, cornstarch, epsom salt, sunflower oil, witch hazel, pink clay, essential oils: pink grapefruit & patchouli. Botanicals: rose
Size: Medium 2" diameter Weight: 2.5 oz.
Packaging: Biodegradable shrink-wrapped for freshness.