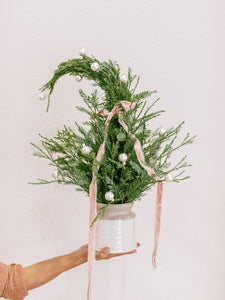 A whimsical Dr. Seuss inspired tree with keepsake vase + petite glass ornaments. 

*Please note: greenery type, ornaments, and vase may vary slightly from image (vase will be a neutral ceramic). Ribbon not included.

This item is a pre-order. We will begin fulfilling/shipping Grinch Trees on November 28th
Approximate dimensions (at tallest/widest points): 26"H x 18"W
--
Available for delivery (within Napa Valley, fee calculated at checkout), free pick-up in downtown Napa, OR available to ship. 
*Please note that for shipped orders, you will need to add water to the vase and place the ornaments on yourself (they will be provided in the package).